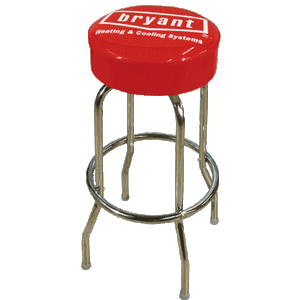 B1340 Bar Stool
Extended production time expected. Please allow 6-8 weeks production.
Price includes handling charge.
Provide a striking advertising medium for building your brand. You can create a long-lasting exposure of your company's logo in a way that is immediate and hard to forget on a single ring swivel bar stool. The cushion is constructed of high quality, durable 12-gauge vinyl. The frame is made of heavy gauge, one inch tubular chrome steel. The swivel base is annodized for safety and long-lasting protection against corrosion. It is secured to the cushion base with anchor bolts to secure against teetering and user discomfort.
Made in the USA
Dimensions: 30" H x 14.5" D
Ships separately (USPS not available); allow 2-3 weeks for delivery
---
Also in this collection